Global Moringa business has evolved into a highly diverse sector, with operations that range from small subsistence farms to large multinational holdings. Farmers' products are sold fresh in local markets, but also across the world through sophisticated and modern value chains. Beyond the Moringa's traditional role in folk food and medicines now it has gained the status of Superfood of superfoods and health supplements.
India based Advanced Biofuel Center (ABC) is the worldwide promoter of Moringa that designs and implements the growing of Moringa Oleifera crops in a structured Agri-Supply chain, Value additions of Moringa and research activities thereon & provides support/services from "Soil to Superfood" for development and establishment of the Moringa Plantation. ABC Support, assist, represent, advise, negotiate, manage and train participating Farmers/Stakeholders in all matters, to successfully plant and harvest Moringa Oleifera for the production of food, feed, fuel, and affiliated products Worldwide.
The ABC has been working on Moringa since last decade with a focus on understanding the unique properties of the plant that can be manipulated to coax it to reach its fullest potential addressing horticultural practices, agronomics, and sustainability issues. ABC has analysed the Present and future dynamics of Global Moringa Market. The main findings of the report Global Moringa Market 2030: Projecting a path of prosperity for people and planet shall be presented to the attendees of 8th Global Moringa meet being organised by ABC on Moringa Production and Application in November
Forecasting the Moringa world in 2030 recalls a quote often attributed to physicist Niels Bohr: "Prediction is very difficult, especially if it's about the future." Especially when It is hard to focus on anything other than the current global pandemic. COVID-19 has upended our societies and the loss of normalcy, human connection and the economic toll is not to be underestimated. Unfortunately, even after countries embark on the path to recovery after this crisis, the threat of climate change remains.
The World Economic Forum (WEF) and Bill and Melinda Gates have risen to the challenge of envisioning the world in 2030. Common themes include increasing urbanization, growing displacement from conflict and climate change, near universal access to the internet, the end of the internal combustion engine and less resource-intensive food systems. Moringa is a less input crop and can take the world towards less-resource-intensive food and health supplements
In 2015, world leaders agreed to 17 Global Goals (officially known as the Sustainable Development Goals or SDGs). The Sustainable Development Goals are a universal call to action to end poverty, protect the planet and improve the lives and prospects of everyone, everywhere. The 17 Goals were adopted by all UN Member States in 2015, as part of the 2030 Agenda for Sustainable Development which set out a 15-year plan to achieve the Goals.
Moringa oleifera is an essential plant in meeting Global food security and sustain the livelihoods of many millions of people. Climate change provides both opportunities and challenges for attaining the potential contribution of the wonderful tree for sustainable human development.
Global Moringa Market Outlook 2030
About Moringa
Moringa oleifera Lam. (Moringaceae), a 'miracle tree' is grown in many countries of tropics and sub-tropics. It has proved to be an excellent source of phytonutrients and has therefore nutritional and medicinal applications for both human and animals. It is a cost-effective, easily procurable and a rich source of multi-vitamins (vitamin A, B and C), proteins, calcium, potassium and possess a unique combination of zeatin, quercetin, sitosterol, kaempferol and caffeoylquinic acid. The unopened floral buds, immature pods and leaves are used for various culinary preparations worldwide. Every part of this tree possesses some or the other nutritional and medicinal property. It is a reservoir of dietary supplements and act as cardiac and circulatory stimulant with antioxidant, anti-inflammatory, antipyretic, antiepileptic, antitumor, anticancer, diuretic, antihypertensive, antispasmodic, hypocholestemic, antidiabetic, antibacterial, antifungal, antiulcer and hepatoprotective properties.
Moringa yields at least four different edible parts viz., pods, leaves, flowers, and seeds. Moringa leaves are the excellent source of protein, β-carotene, vitamins, A, B, C and E, riboflavin, nicotinic acid, folic acid, pyridoxine, amino acids, minerals and various phenolic compounds, phytochemicals, and omega 3 and 6 fatty acids. The leaves of moringa are rich in palmitic and linolenic acids whereas the seeds are predominated by oleic acid.
Moringa trees, from which Moringa Products are produced, are originated from India, and now found in African, Asian, and American countries such as Ghana, Philippines, and Haiti. These Products are commercially manufactured by processing different parts of Moringa such as leaves, Seeds and other parts. Common uses of Moringa Products are in Food & Health supplement, pharmaceuticals, cooking, and cosmetics. The different product types of Moringa Products are virgin Moringa Products, organic Moringa Products and other miscellaneous, depending on the method of growing, harvesting and processing/extraction. The increasing demand for Moringa Products in developing countries like India, China and Brazil is one of the primary drivers. This is owing to the strong economic growth and increasing awareness of health benefits among consumers, coupled with a greater exposure to the western lifestyle, there seems to be an upward trend in consumption of Moringa Products.
About Moringa Market
Moringa market has gained more exposure owing to rising awareness and concern among consumers regarding health benefits. And Covid-19 crisis has given boost to moringa industry for health enhancement and economic empowerment.
The Moringa is all set to help in achieving Sustainable Development Goals, Goal 1. End poverty in all its forms everywhere, Goal 2. End hunger achieve food security and improved nutrition and promote sustainable agriculture and Goal 3. Ensure healthy lives and promote well-being for all at all ages by 2030.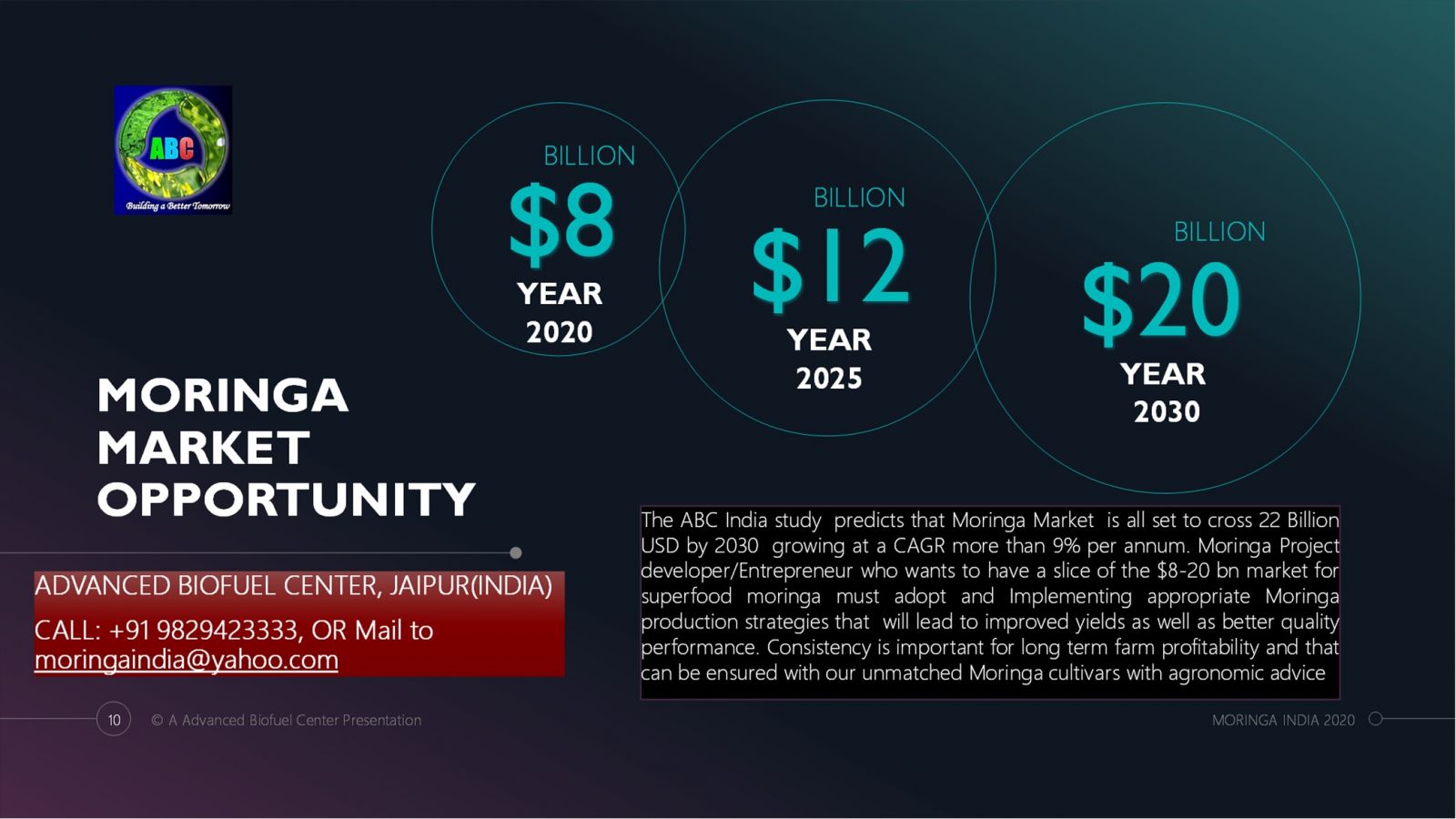 Advanced Biofuel Center (ABC) of India is premier entity working in research and development of Moringa. The ABC has projected that Global moringa market is estimated to be over US$ 20.0 Billion in 2030. It is anticipated to grow at a CAGR of ~9.4% from 2019 to 2030.
India is the most advanced producer and supplier of Moringa, but African and American countries are developing their production. There has also been extensive research on Moringa cultivation in India. Given its significant health and nutritional benefits, Moringa has the potential not only for as a health food supplement but also as a nutritional supplement in the fight against malnutrition. In addition, countries like USA and EU have developed a standard for regulating Moringa Products. To enter Western Hemisphere health food markets, it is important for any Moringa products to pass food regulations and quality control for Western markets. The global standardization of Moringa Products is attracting more consumer demand for the product.
Scientific research has made steady progress, generating a growing body of conclusions on the biological, nutritional, and health-promoting properties of Moringa Products. In additions to its abundance of nutrition and phytocompounds, it has been widely studied by over 1000 peer-viewed scientific articles for its health and wellness benefits. The outstanding nutritional qualities of Moringa Products (very high content in vitamins, minerals, and proteins) have raise a lot of interest and it is not uncommon for food companies to jump at the opportunity to use the trending ingredient.
This has led to grow the demand which led to grow a new multi-billion industry. The world food and nutritional supplements companies are predicting that the Moringa from a soil to superfood phenomenon shall acquire more than 10% share of the industry in coming years, while companies in the cosmetics field are expecting its enthusiastic embrace within their industry.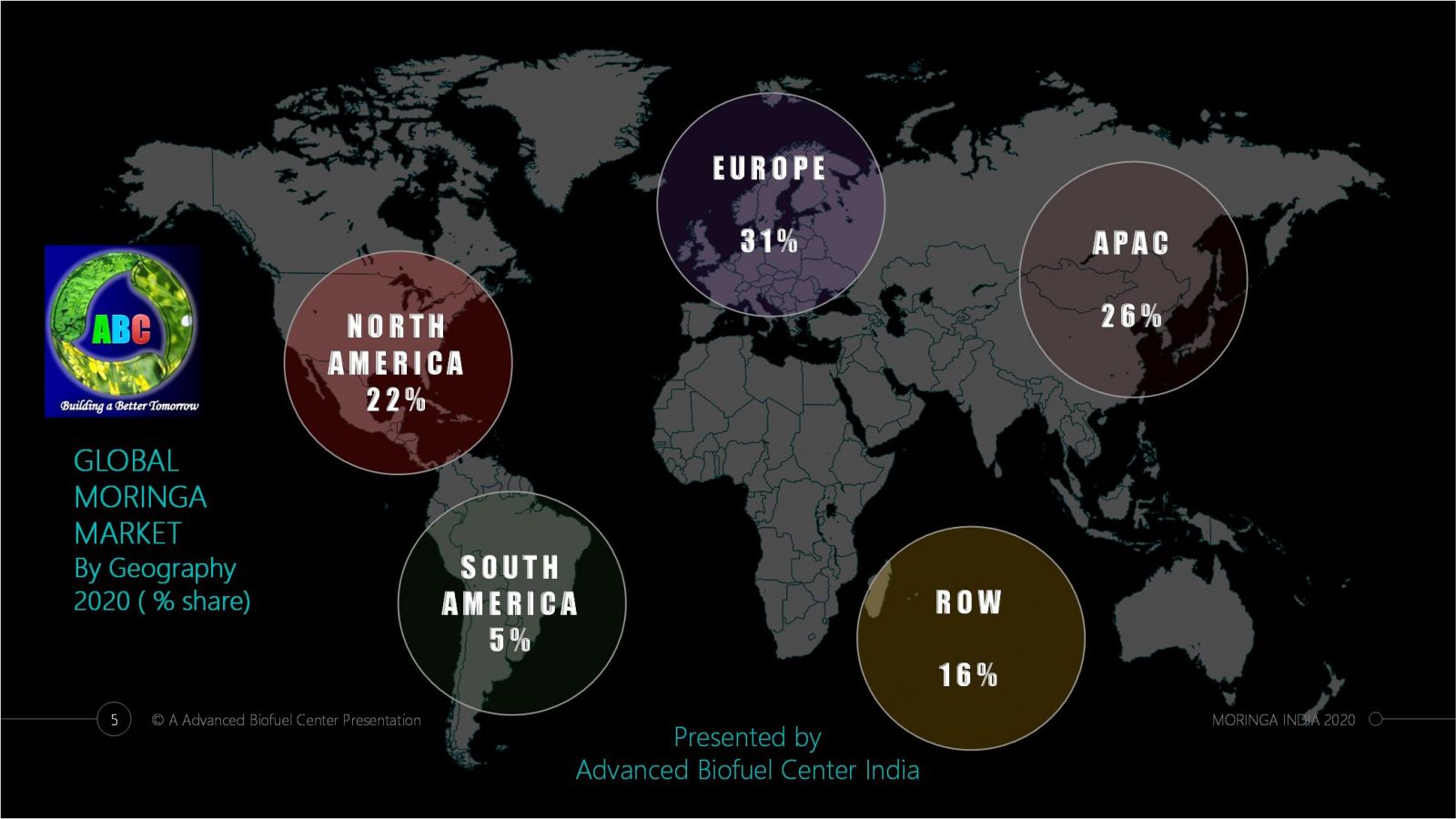 The European and North American moringa products market has been segmented on the basis of product into leaf powder, tea, oil, seeds, and others. The leaf powder segment holds the largest share of the market. The moringa leaf powder, made from naturally dried moringa leaves, is widely known to enhance the flavour of curries, soups, stews, salads, etc. The tea that is made from the leaves of moringa is a popular beverage with several foods, and drinks manufacturers are increasingly investing in this aspect. The tea is rich in antioxidants, including polyphenols and other plant compounds; it proves effective in weight control. Moringa oil is rich in vitamin C and can be used in cooking; its high vitamin C content helps strengthen the immunity of consumers.
The European moringa products market was worth US$ 2.7 billion in 2020 and is expected to reach US$ 6.2 billion by 2030. The North American market for moringa products was valued just US$ 1.90 billion in 2020 and is expected to reach US$ 4.4 billion by 2030. APAC market is presently around US$ 2 billion may cross US$ 5 billion by 2030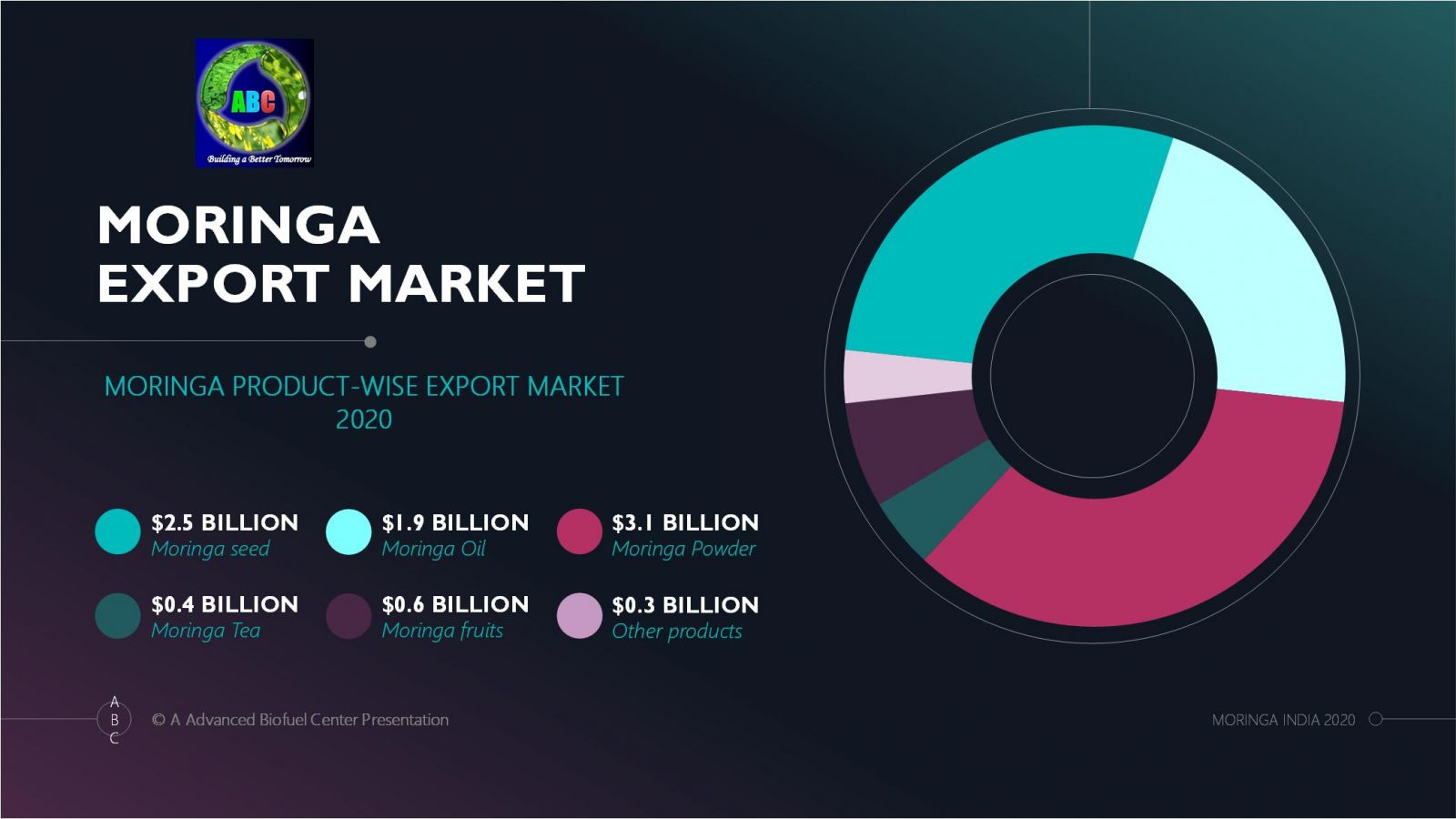 In the US, Moringa is increasingly becoming available in health shops, both online and offline. While the leaf powder has been sold for a few years already, stores like Whole Foods are also starting to carry 'consumer-ready' products like the Kuli Kuli health bars, which currently contain Moringa sourced in Africa. Various US companies have started to produce their own Moringa
In the European food segment, Moringa leaves are used mostly in teas or energy drinks. They are marketed as caffeine-free energy boosters and superfood, with a composition which is comparable to spirulina. Potential for Moringa derivatives (leaf extracts, seed oil) remains limited as their status under Novel Food Regulation is unclear. Yet, only (whole or powdered) leaves are allowed for food in the EU, while Moringa seed and oil can be used in food supplements in some EU countries (e.g. Italy). If extracts (or the oil) become classified as "novel", a safety assessment is required and, while pending, its application in food is banned. Industry sources indicate these extracts would have a good potential considering high antioxidant activity, and its mineral and vitamin content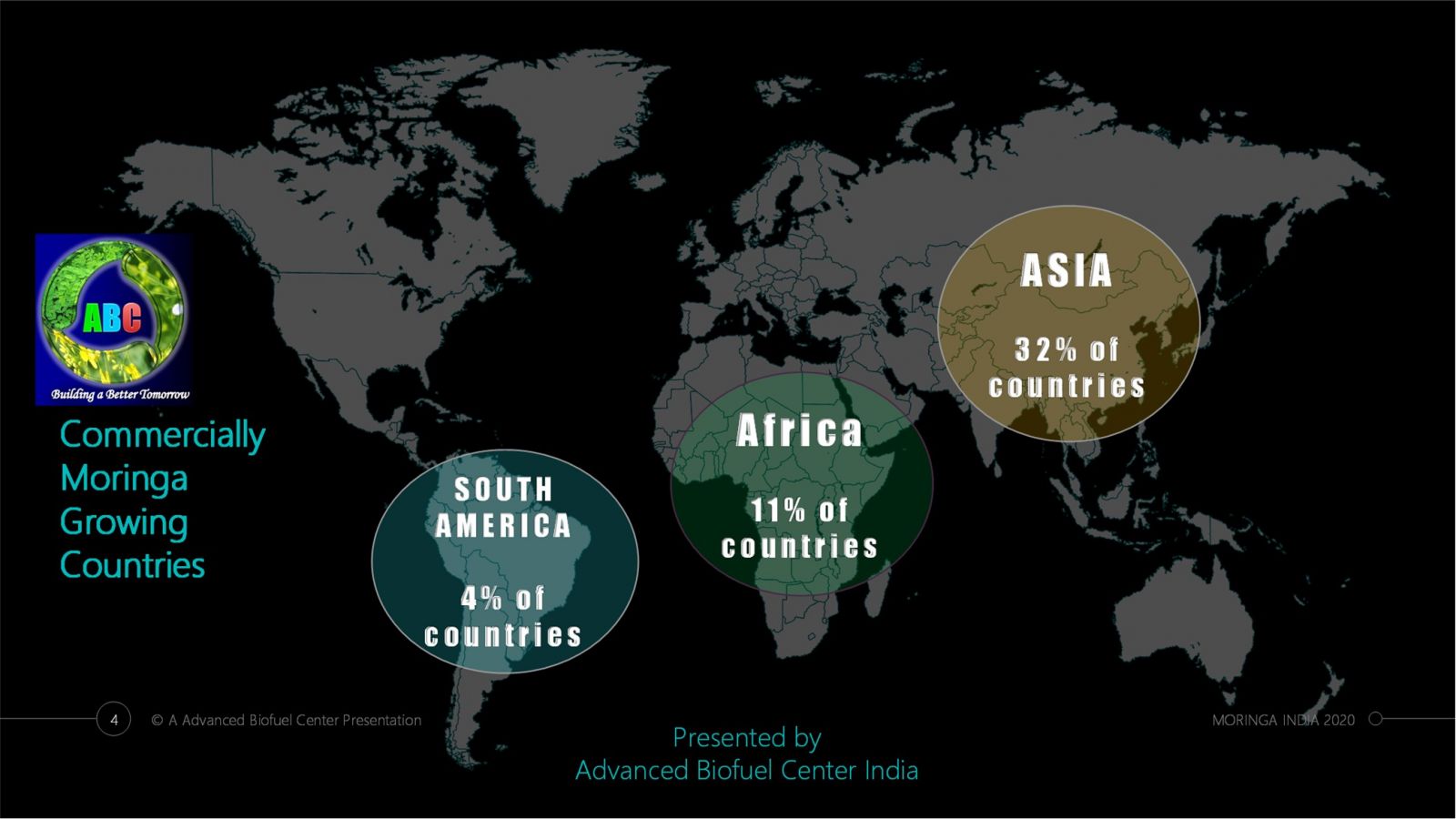 Moringa production is limited to only some specific countries that fall under the tropical and sub tropical belt such as African and American countries apart from its homeland India, among others. Being an underutilized crop, Moringa commercialization has now picked up. There are more than 100 countries where moringa can be commercially exploited but as on date a in very few countries commercial projects have come up.
ABC has analyzed market depending on its market segments, major geographies, and current market trends and geographic situation. The key Moringa producing country is India meeting 80% of world demand. Some of the other key manufacturers' countries of Moringa Products are Ghana, Philippines, Nigeria, Kenya, Rwanda, Niger, Mozambique, Cambodia, and Haiti, among others.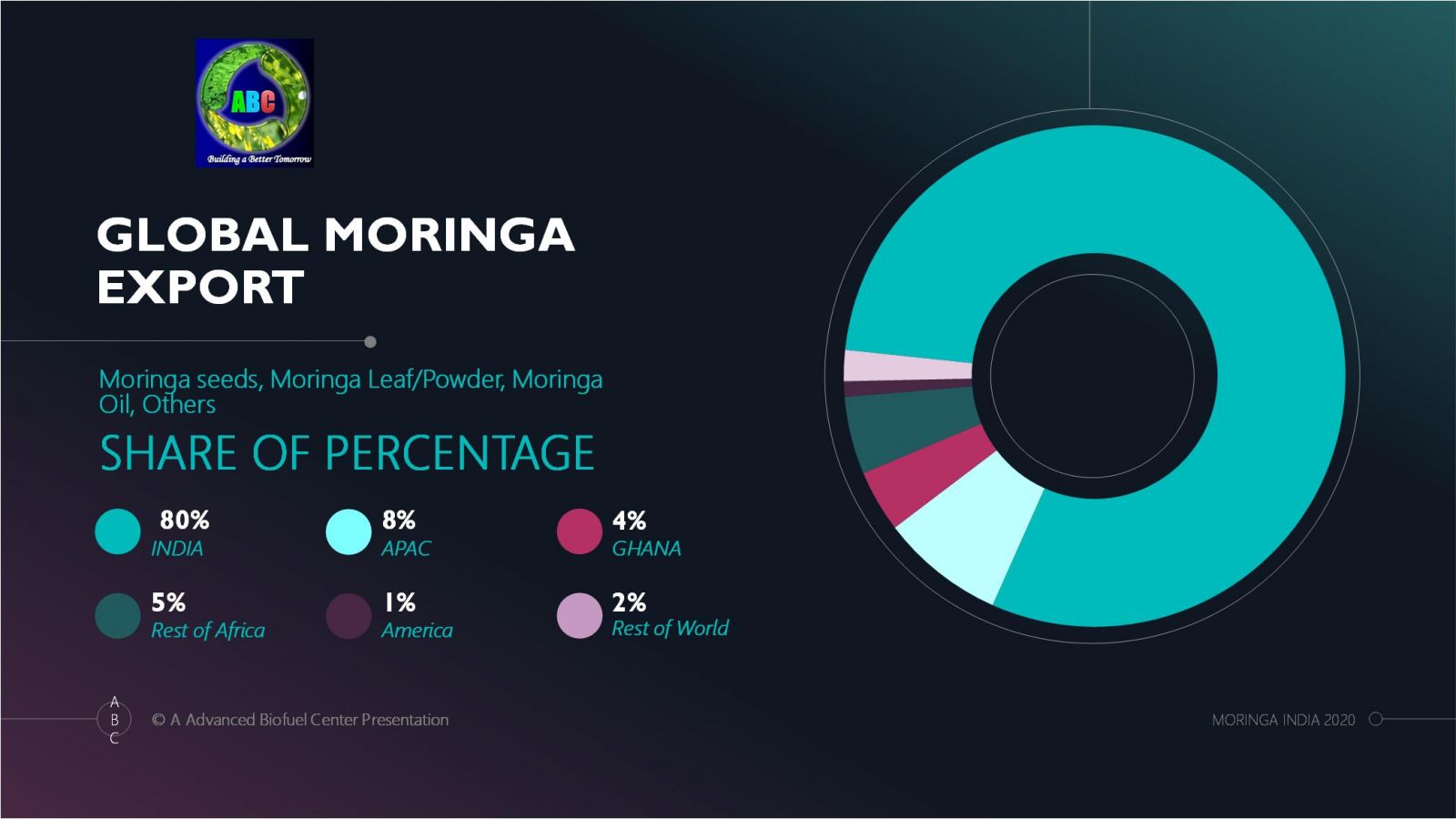 Moringa and United Nations (UN)
UN agencies such as the World Food Programme (WFP), the Food and Agriculture Organization of the United Nations (FAO), United Nations Educational, Scientific and Cultural Organization (UNESCO), and the United Nations Environment Programme (UNEP), and the United Nations Children's Fund (UNICEF), have all paid tribute to Moringa as a miracle tree with the potential to further the UN agenda for sustainable development. As per UN, Moringa shows great promise as a tool to help overcome some of the most severe problems in the developing world — malnutrition, deforestation, impure water, and poverty. The tree does best in the dry regions where these problems are worst. With such strong support for the Moringa tree, how do we turn "great promise" into great practice?
According to an article published in the scholarly journal Ecology of Food and Nutrition, the diffusion of the cultural knowledge surrounding the benefits of Moringa has allowed both United Nations agencies and member states to implement Moringa-proliferation programs in developing countries.
These programs that use manufactured nutrient-rich powders, high-energy food sources, vitamin A drops, and nutrition centers for severely undernourished children have adequately addressed the once bleak world nutritional status… M. oleifera is one example of a nutrient source that can be grown and used at the individual or societal level. By partnering with appropriate educational modalities to describe its uses and nutritional benefits, communities around the world will be able to participate directly in halving the world's hunger and improving nutritional deficiencies.
The article continues, stating that Moringa gives "countries with a high prevalence of under-nutrition might have at their fingertips, a sustainable solution to some of their nutritional challenges."
It seems at the international level, efforts to bring Moringa to those in need are in full swing. The United Nations agencies and member states have wholeheartedly embraced the tree and are continuing to facilitate its advancement
The pandemic and Moringa
The pandemic has highlighted systemic failings, fragilities and inequalities that define today's world. But it has also offered us an unparalleled opportunity to re-imagine our future. What we need now is a transformative shift in thinking and action. What we need now is everyone to push for The Global Goals for Sustainable Development to be achieved. The plan that all countries signed up to at the United Nations 5 years ago. The 2030 Agenda embraces three dimensions of sustainability — economic, social, and environmental and Moringa has ability to meet out all three criteria
Director-General of the Food and Agricultural Organization of the United Nations (FAO), Qu Dongyu, while addressing the Agriculture Ministers of the G20 countries said "Preserving access to safe food and nutrition is an essential part of the health response", recommending countries to strengthen local production and shorten food supply chains. New business models are needed. It is the time to speed-up e-commerce in agriculture and food systems across the globe.
Moringa provides even more support now and for the post-COVID-19 supplement landscape
The antioxidant potential of moringa and its ability to modulate inflammatory pathways underscores its potential as an adjunct to recovery
COVID-19 will have a lasting impression on how consumers view wellness and supplements. And, beyond immunity, performance nutrition in on the rise. Supplements are quickly catching up to consumers' needs to stay active and recover quickly and Moringa's multi-functional products/ingredient address the needs of anyone who wants to continue their path to health beyond COVID-19.
Vegetarianism and veganism were more than mere curiosities at the start of the decade. (Eight percent of those aged 30–49 identified as vegetarian, according to 2018 Gallup data covered in Forbes.) Over the past 10 years, largely due to fears of another zoonotic pandemic like the havoc the coronavirus created in 2020, more people the world over became serious about reducing, if not entirely eliminating, animal proteins from their diets.
As the world prepares to recover from the COVID-19 pandemic and resulting crisis, we are presented with an unprecedented clarion call, and opportunity, to change the way we eat, live, grow, build and power our lives to achieve a carbon-neutral, 'nature-positive' economy and halt biodiversity loss by 2030.
There is an increasing demand of good quality Moringa Products in developed regions of Europe and North America. Countries such as Africans and India have not enough output in terms of Moringa production to meet rising worldwide demand. Determined efforts are being made by Moringa growing countries to increase production by using advance technology in agriculture and production. Some countries already chalked out Mission Moringa and we hope some shall come out with a Moringa promotion program: with an overall objective Moringa as a Viable Solution against Poverty, Malnutrition and Deforestation for progress and prosperity of the people
More read at https://dpmaharshi.medium.com/moringa-in-2030-transforming-the-world-for-the-people-planet-prosperity-e7ef926f7a8c